The work of a lifetime… Chosing and classifying my best artists and bands of all times, keeping only 100 of them. Tough criteria but fantastic adventure which I hope will make you smile, discover new music, agree with a few choices…and being furious for other ones (what, no Monks or Sonics in this list!!??). Well, as you will see, there are greater names than these two bands which will be out of this list. What made an artist or band actually be in this Top 100 ? Apart of course from the fact that I must know them very well (meaning no trendy name to make it look like a cool list), what made me select one of them is the same criteria which makes me write this blog : E-MO-TION.
You will therefore find a good balance between the 50's (5), 60's (26), 70's (23), 80's (19), 90's (15) and the 00's (12), between all styles of music (Pop, Rock, Jazz, Hip Hop, Soul, etc…),  between artists/bands still active (55) vs. dead or not in action anymore (45), with lots of diversity in nationalities (British, Irish, French, American, Jamaican) and in genders (2 women!);
So here we are for the countdown, starting with number 100.
100. The Fall
  from : Manchester, England / first great sounds : 70's / style : post-punk psychobilly babble / essential album : This Nation's Saving Grace (1985) / click for more on the blog
John Peel favourite band ever, The Fall = Mark E. Smith, their leader for more than thirty years. Always the same, always different.
99. Iron and Wine
from : Austin, Texas, USA / first great sounds : 00's / style : ambitious folk-rock / essential album : The Shepherd's Dog (2007) / click for more on the blog
One Sam Beam's project, Iron and Wine is one of current bands to cherish, their music giving hope in hard times.
from : London, England / first great sounds : 80's / style : from pop to stop / essential album : Spirit of Eden (1988)
Mark Hollis' career is one of the most respecting in the music business. After Talk Talk started as one of the UK's most popular pop band, he went on doing just a few records, with less and less electricity and more and more breath, eventually falling into complete silence. One of the most influential bands ever for hundreds of bands and musicians.
97. Portishead
from : Bristol, England / first great sounds : 90's / style : film noir trip hop / essential album : PNYC (1998)
Their first LP "Dummy" was earned by everyone from general public to hipsters and paved the way for two more studios and one live albums. The project of hyperactive music lover Geoff Barrow with the voice of Beth Gibbons and the creativity of Adrian Utley, they created a beautiful music never heard elsewhere.
96. Can
from : Köln, Germany / first great sounds : 60's / style : krautrock / essential album : Tago Mago (1971)
Four jazz/blues/classical music musicians meet to create something with at the same time post-war Germany and UK psychedelic pop influences and give to the world one of the most beautiful music ever made. All those groovy and repetitive bands from the Happy Mondays to the Horrors know what they own to Can.
95. Brian Eno
from : London, England / first great sounds : 70's / style : melodic ambient music / essential album : Another Green World (1971)
As if having been a key figure in the music of Roxy Music, David Bowie, Talking Heads and U2 was not enough, Brian Eno created the ambient genre but mainly made a few beautiful records on his own.
94. Bob Marley and the Wailers
 from : Kingston, Jamaica / first great sounds : 60's / style : reggae / essential album : Exodus (1977)
The first and until now only non-Western music star, Bob Marley contributed to having reggae known as a style of music by everyone. Getting above the usual reggae clichés and diving into his words and music will bring joy to those who did not do so yet.
93. Microdisney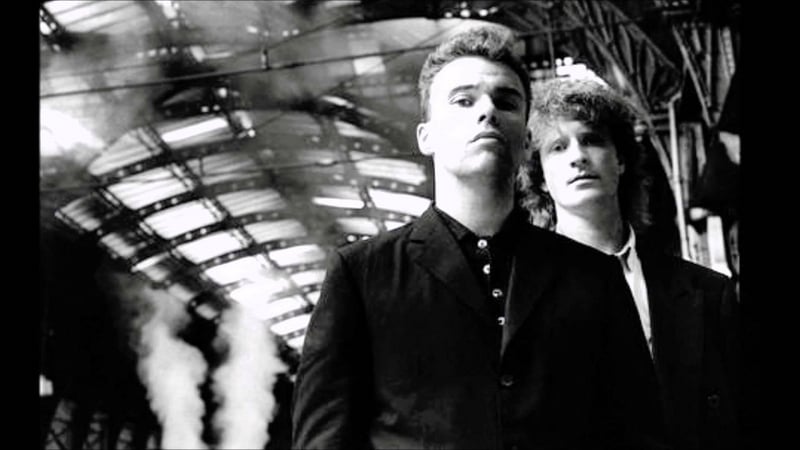 from : Cork, Ireland / first great sounds : 80's / style : melodic political pop / essential album : The Clock Comes Down The Stairs (1985)
They should have ruled the world with more luck and compromise. Instead, they just did a few records and made our lives better in the 80's. Lead singer Cathal Coughlan went on doing a few more records whereas Sean O'Hagan keeps on keeping the flame with his Beach Boys influenced band The High Llamas.
92. Patti Smith
from : New York, NY, USA / first great sounds : 70's / style : punk rock poetry / essential album : Horses (1975)
Patti Smith is an amazing woman who had led many lives : poetess, muse of Robert Mapplethorpe, part of the 70's punk rock New York scene, survivor following many loved ones' deaths,… But she also made one of the best albums ever, the kind of which you can listen to week after week. Hearing "Jesus died for somebody's sins but not mine" still gives me goosebumps…
91. The National
 from : Brooklyn, NY, USA / first great sounds : 00's / style : lyrical humble rock / essential album : High Violet (2010)
Built by two sets of brothers around lead singer Matt Berninger, The National is one of the great bands of our times. The more you listen to them, the more their music will reward you.
Stay tuned for our next part with bands and artists from 81st to 90th positions!